The 12th Chemical Pharmaceutical International Summit-Asia|CIS-Asia 2021
October 26-29, 2021 Beijing, China
Organizer: Best Media|Best Media & Pharmaceutical Engineering Professional Committee of Chinese Pharmaceutical Association
Invitation card
Thank you experts and colleagues for your support! The 12th International Summit on Chemicals and Pharmaceuticals-Asia|CIS-Asia 2021 will be held in Beijing on October 26-29, 2021 (Tuesday to Friday). Best Media and the Pharmaceutical Engineering Professional Committee of the Chinese Pharmaceutical Association have been deeply involved in the international summit of chemical generic drugs, improved new drugs and innovative drugs for more than ten years. Among them, "Generic Drug International Summit Asia-GIS Asia", "Drug Delivery System and Preparation R&D Asia Summit-DDF Asia", and "Innovative Drug International Summit|NIS" have been held many times and have become high-quality products recognized by colleagues in the industry. Pharmaceutical industry summit.
A new ten-year new starting point, the April Shanghai Spring Festival has successfully set off. Focusing on nearly 2,000 industry colleagues and more than 100 exhibitors, a new starting point. The Beijing Autumn Festival will continue to provide the industry with a more splendid and exciting pharmaceutical research and development exchange and cooperation event. At that time, the three summits will be held simultaneously to discuss the new situation; the development strategy of generic drugs and the analysis of competition barriers; how to achieve breakthroughs in the field of improved new drugs, and which high-end complex drug delivery routes are suitable for selection; facing the impact of the intensive biological drug research and development , What is the prospect and current situation of the research and development of innovative chemical drugs, and how to win in the competition? CIS-Asia 2021 will take strategy, technology, market, regulations and other multi-dimensional and multi-fields as the entry point, through three main forums and 12 sub-forums to explore and seek answers together with you. For 4 consecutive days, the summit focused on preparation technology, patents, 505(b)2, injections, transdermal drug delivery, innovative drugs, including drug discovery, raw materials, preparations, analysis, regulations, and clinical practice. Nearly 140 international and domestic experts The experience sharing of first-line experts will also bring together 1,500 industry colleagues to discuss the development trend and technical details, and jointly assist the research and development of domestic pharmaceutical companies. All the excitement is at the 12th International Summit of Chemical and Pharmaceutical Industry-Asia|CIS-Asia2021.
The CIS-Asia2021 conference will have three main forums:
The 12th International Generic Drug Summit-Asia|GIS2021
The 12th Drug Delivery System and Preparation R&D Summit|DDF2021
The 3rd Innovative Drug R&D Summit|NIS2021
CIS-Asia2021 will cover the 12 sub-forums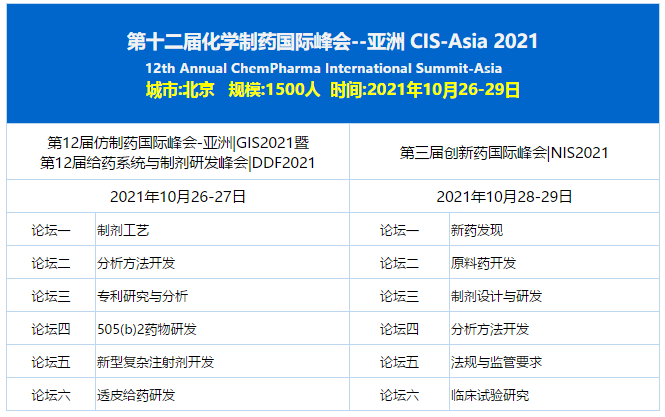 After ten years, the original intention remains the same. We also look forward to more high-quality medicines from China to protect the lives and health of Chinese and people all over the world. With this expectation, we are committed to serving colleagues in the Chinese pharmaceutical industry and paying tribute to the industry and colleagues with a more professional and exciting summit! The registration channel for CIS-Asia2021 participants and the channel for exhibitors are now officially opened. We look forward to seeing you in Shanghai!



Part of CIS2021 confirmed speakers
Part of GIS2021&DDF2021 confirmed speakers
Yu Xiong, Honorary Chairman, Pharmaceutical Engineering Committee of Chinese Pharmaceutical Association
Liu Zhi, Vice President of Pharmaceutical Research Institute, Huahai Pharmaceutical
Yang Yongsheng, Chief Scientist, Baiyang Pharmaceutical
Cheng Xiuxiu, Chief Scientist, Fangda Pharmaceutical
Li Sanming, Professor, Shenyang Pharmaceutical University
Wei Shifeng, General Manager, Beijing Luo Nuo Qiangshi
Xi Fengde, Chief Scientist, Jingxin Pharmaceutical
Lei Jifeng, General Manager, Shanghai Anbisheng
Yang Jianhong, Researcher, Yihong School of Business, Shenyang Pharmaceutical University
Wang Qing, Dean of the Department of Pharmacy, Dalian University of Technology
Zhang Xin, Chairman, Xinwen Biotechnology
Chen Tao, Chairman, Xi'an Libang
Chen Hong, Deputy General Manager, Yuandong Biological
Liu Lei, Director of Intellectual Property, Jiangsu Enhua Pharmaceutical
Xiang Jianing, Founder and Chief Scientific Officer, Kerry Corning
Kong Xiangsheng, Assistant to the President/General Manager of Research and Development Headquarters, Livzon Pharmaceutical Group
He Weixuan, General Manager of International Department, Chengdu Better Pharmaceutical
Wang Zhenyu, Deputy General Manager, Sichuan Prime
He Jun, researcher, Shanghai Institute of Pharmaceutical Industry
Liu Shicheng, Deputy General Manager and Dean of Beijing Research Institute, Yunpeng Pharmaceutical Group
Liu Wanhui, Vice President of CMC Center, Luye Pharma
Part of the NIS2021 3rd International Summit on Innovative Medicines will determine the speakers
Yan Xiaojun, Senior Vice President, BeiGene
Guo Ming, co-founder, Yasheng Pharmaceutical
Shao Jun, Senior Vice President, Zhejiang Hisun Pharmaceutical
She Jin, Senior Vice President, Hua Medicine
Shan Bo, Chief Scientific Officer, Deqi Pharmaceutical
Party group, president, Henan Real Bio
Hua Ye, Chairman, Yehui Pharmaceutical Technology
Xia Guangxin, President of Academia Sinica, Shanghai Pharmaceutical Group
Chen Weichun, Vice President, Jixing Pharmaceutical
Chen Lin, Director, Bayer
Xi Ning, President, Beijing Fannkel Biotechnology
Liu Xiaoyu, Founder, Chengdu Vanosi
Cui Haifeng, Chief Scientist, Ji Min Credible
Hu Shaojing, President of R&D, Beijing Jiaxian
Zeren Wang, Founder and Chief Scientific Officer, Shenzhen Yaoxin Biology
Zhang Dawei, General Manager, Jiangsu Maidu Pharmaceutical
Cao Haifeng, Vice President/Head of Regulatory and Pharmaceutical Development Department, Ruishi Biological
Fang Xingchun, Deputy General Manager, Chongqing Liangjiang Pharmaceutical Research and Development
Ding Junjie, Director, AstraZeneca
Deng Yongqi, Chairman/General Manager, Kaifu Bio
Hu Xinhui Chief Technology Officer, Everest Medicines
Huang Jinkun, founder, Xilingyuan Pharmaceutical
Guo Zhenrong, Executive Vice President of CMC Small Molecules, Tongrun Bio
Liping Liu, Founder, Shenzhen Junshengtai
Zhang Hesheng, General Manager, Tianjin Hemei Pharmaceutical Technology Co., Ltd.
Wu Zhenping, Senior Vice President, Hutchison Whampoa
Zhou Zhenhua, Vice President of CMC, Kanglong Chemical
Wang Yong, Vice President, DataRevive
Zhou Wenlai, Chief Biologist, Jacos
Huang Qin, Senior Vice President, Simcere Pharmaceutical